Blackmagic Design Audio Monitor 12G
24760
Features
Monitor Anywhere
Offering great and professional audio wherever you go. Its never been easier to put the highest quality audio and video monitoring everywhere you need it. Install Blackmagic Audio Monitor 12G in broadcast racks audio on decks, video servers and live transmissions. At the push of a button you can switch between stereo pairs of the SDI input, great for monitoring alternative language tracks. The compact size is perfect for portable flyaway kits and broadcast trucks where space is tight, or in edit and audio post production facilities where precise audio quality is essential.
Small Size, Big Sound
The Blackmagic Audio Monitor 12G has been designed using the latest advanced audio analysis technology to create a wide and smooth frequency response curve with crisp highs and powerful deep bass. You get great sounding music, extremely clear voice tracks and all the detail of effects tracks. Blackmagic Audio Monitor 12G is powerful and loud enough to hear your audio in noisy environments, such as broadcast equipment rooms that have a lot of cooling fan noise.
Precision Audio Level Metering
The two big bright audio level meters on the front panel feature multi coloured RGB LEDs under each segment. You can select between VU or PPM or Loudness scales with a choice of EBU or BBC meters. With lots of meter segments you can monitor a very wide dynamic range, from -45 to +3 decibels, -12 to +12, or 0 to 7, depending on the scale you choose. In addition you can meter Loudness using standard Loudness, Kweighted, relative to Full Scale (LKFS) to normalize of levels for delivery to broadcast TV and video. The bright audio level meters are always clear enough to read, no matter if you are working in bright or dark environments.
Machined Metal Design
The machined metal design is attractive as well as extremely strong, which means you get a robust chassis that's vital for better quality sound without rattles and vibrations. The elegant front panel features audio level meters, LCD video monitor and a reliable contactless volume control, so you never get deterioration and crackling in the audio when adjusted. To select audio pairs, left and right solo, mute and input, there is a built in illuminated keypad and for private monitoring there is a built in headphone socket.
Advanced 12GSDI
Blackmagic Audio Monitor 12G supports all common SD, HD and Ultra HD video resolutions. The 12GSDI input and HDMI 2.0 output also support high resolution Ultra HD monitoring. The advanced technology of 12GSDI is 48 times faster than standard HDSDI so you can work at resolutions and frame rates as high as 2160p60, all over a single cable. You can connect to Ultra HD TVs and projectors with HDMI 4K and you can monitor any of the 16 audio channels on the 12GSDI input.
Both Audio and Video Connections
Blackmagic Audio Monitor 12G has all the audio and video connections you need to make it the perfect monitoring solution in any environment. With balanced analog XLR audio, balanced AES/EBU audio and consumer level HiFi audio inputs its easy to connect any audio source. You can select between inputs quickly using the input button situated on the front panel. The 12GSDI video input and HDMI 2.0 video output both support embedded audio and let you connect to the latest high resolution video technology.
Use a Big Screen TV for Monitoring
When you're working with SDI video input you can use the Blackmagic Audio Monitor 12G to convert from SDI to HDMI for monitoring with big screen televisions or video projectors. Blackmagic Audio Monitor 12G automatically switches between SD, HD and Ultra HD formats. You can monitor in high resolution Ultra HD using the HDMI output with only a single HDMI cable.
In the box
Blackmagic Audio Monitor 12G
PPM and Loudness Scale Stickers
SD card with software and manual
Specifications
Connections
SDI Video Inputs
1
SDI Video Outputs
1 loop out.
SDI Rates
270Mb, 1.5G, 3G, 6G, 12G.
HDMI 2.0 Video Outputs
1
Multi Rate Support
SDI and HDMI are switchable between standard definition, high definition and ultra high definition.
SDI Video Loop
1 x reclocked 10‑bit SD/HD/3G‑SDI, 6G‑SDI and 12G‑SDI.
Analog Audio Inputs
2 x XLR. 2 x RCA HiFi.
Analog Audio Outputs
1 x 6.5mm headphone socket.
Digital Audio Inputs
1 x XLR.
Built in Speaker
Stereo with 2‑way crossover and independent stereo subwoofers.
AES/EBU Audio Inputs
2 channels balanced 110Ω AES/EBU via XLR.
SDI Audio Inputs
16 channels embedded in SD, HD and UltraHD 4K.
SDI Audio Outputs
16 channels embedded audio loop out.
HDMI Audio Outputs
8 Channels embedded in SD, HD and 4K.
Ethernet
1Gb/sec for configuration and firmware updates.
Computer Interface
USB‑C for configuration and firmware updates.
Metering
2 x 27 RGB segment LED VU, PPM or Loudness meters.
Modes
Push button interface allows for input selection, channel selection, independent left and right audio, mute and volume control with scroll wheel.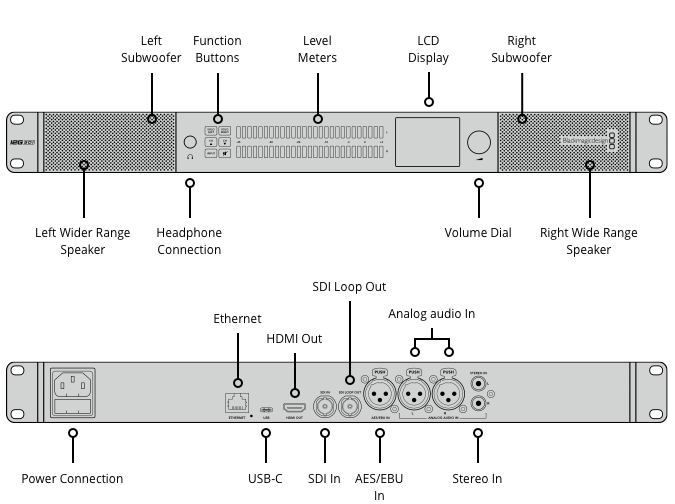 Standards
SD Video Standards
525i59.94 NTSC, 625i50 PAL
HD Video Standards
720p50, 720p59.94, 720p60, 1080p23.98, 1080p24, 1080p25, 1080p29.97, 1080p30, 1080p50, 1080p59.94, 1080p60, 1080PsF23.98, 1080PsF24, 1080PsF25, 1080PsF29.97, 1080PsF30, 1080i50, 1080i59.94, 1080i60
2K Video Standards
2K DCI 23.98p, 2K DCI 24p, 2K DCI 25p, 2K 23.98PsF, 2K 24PsF, 2K 25PsF
Ultra HD Video Standards
2160p23.98, 2160p24, 2160p25, 2160p29.97, 2160p30, 2160p50, 2160p59.94, 2160p60
4K Video Standards
4KDCIp23.98, 4KDCIp24, 4KDCIp25, 4KDCIp29.97, 4KDCIp30, 4KDCIp50, 4KDCIp59.94, 4KDCIp60
SDI Compliance
SMPTE 259M, SMPTE 292M, SMPTE 296M, SMPTE 372M, SMPTE 424M, SMPTE 425M Level A and B, SMPTE 2081‑1, SMPTE 2081‑10, SMPTE 2082‑1 and SMPTE 2082‑10
SDI Auto Switching
Automatically selects between SD, HD, 3G‑SDI Level A and B, 6G‑SDI and 12G‑SDI.
Audio Sampling
96 KHz and 24 bit.
Video Sampling
4:2:2 and 4:4:4
Audio Meter Ballistics
54 RGB segment LEDs allowing selection of metering with VU, PPM EBU, PPM BBC or Loudness. Includes replaceable level scale.
Control
Built-in Control Panel
2.2 inch display for viewing video input, video standard and selected audio input.
Software
Internal Software Upgrade
Via USB connection and Ethernet
Display
Display Element
2.2 inch diagonal color LCD.
Display Resolution
320 x 240.
Input Display
SDI video, format, audio type and audio channels.
Power Requirements
Power Supply
1 x Internal 100 - 240V AC.
Power Usage
55 Watts
Physical Specifications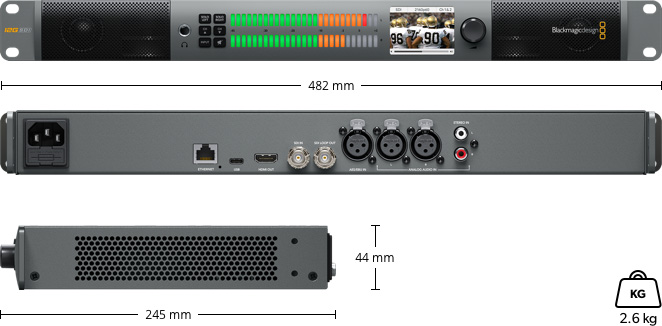 Environmental Specifications
Operating Temperature
0° to 40° C (32° to 104° F)
Storage Temperature
-20° to 45° C (-4° to 113° F)
Relative Humidity
0% to 90% non-condensing
What's Included
Blackmagic Audio Monitor 12G
PPM and Loudness Scale Stickers
SD card with software and manual
Reviews
Warranty Info
PRODUCT WARRANTY INFORMATION
1. What warranty comes with the goods purchased ?
All products excluding batteries sold by Orms are covered by a minimum of a one year local warranty, reckoned from the date of purchase, to protect you against manufacturing defects.
CANON
Canon IXUS, PowerShot compact cameras are covered by a full 1 Year Warranty
Canon DSLR and Mirrorless cameras are covered by a full 2 Year Warranty.
Canon video cameras including Legria and X-series are covered by a full 1 Year Warranty.
NIKON
Nikon compacts excluding the Coolpix P900 are covered by a full 1 Year Warranty.
Nikon DSLR's including the CoolPix P900 and are covered by a full 2 Year Warranty.

Panasonic

Panasonic cameras and lenses are covered by a full 2 Year Warranty.

FUJIFILM
Fujifilm cameras are covered by a 2 Year Warranty.
SIGMA & TAMRON LENSES
Sigma and Tamron products are covered by a 3 Year Warranty, which only applies to when registering your Tamron/Sigma product.
LEXAR & SANDISK MEMORY CARDS
Lexar and Sandisk memory cards are covered by a Limited Lifetime Warranty.
LOWEPRO BAGS
Lowepro's Limited Original Owner Warranty covers defects in materials and workmanship during the useful life of the product. The warranty does not cover damage caused by improper care.
USED GEAR PURCHASED FROM ORMS
All used gear sold by ORMS is supplied with a 6 Month Warranty.
REFURBISHED GEAR PURCHASED FROM ORMS
All refurbished gear sold by ORMS is supplied with a 12 Month Warranty.
2. My product has gone faulty, now what ?
Please contact our service division straight away on 021 - 469 1962 and notify them of the fault. You may also e-mail them at repairs@orms.co.za
1. If a product is defective / faulty, ORMS will replace the product within a 10 day period deemed from the date of receiving the product. ORMS will also cover the shipping costs within the borders of South Africa.
2. During the warranty period, Orms will arrange collection of the faulty item, facilitate the repair and then ship the product back to the customer, bearing all risks and costs.
3. Please see our policies under Return Policy and Servicing & Repair Policy for further information
Orms is not obliged to repair products that fall outside of the manufacturers warranty period, or products that are damaged accidentally, however Orms in seeking to deliver the highest standard of customer service will gladly assist the customer in having the product repaired via the network of repair agents with which Orms has business dealings.
Shipping Info
1. FREE Standard Shipping
Free Economy Shipping is available on all orders exceeding R1 000. (T&C's apply)
*Terms and conditions to qualify for free shipping:
Shipping may only be to a physical address within the borders of South Africa. No P.O Box's allowed.
Shipping to outlying or remote areas like farms and game reserves may attract an additional fee.
The delivery time to city areas is usually between 2 and 4 working days*. This excludes weekends and public holidays.
*Reckoned from time of dispatch to time of arrival to client. This is an estimate and not guaranteed.
2. DawnWing Courier Service (local)
We use DawnWing couriers as our preferred method of delivery.
With sophisticated track and trace equipment, you can pinpoint exactly where your parcel is, from the moment it is dispatched by us, until it's safely handed over to you the recipient.
Your parcel is well packaged and bubble wrapped before delivery. We also fully insure your parcels contents for the journey to your door.
Delivery Charges:
We charge a flat-rate for shipping and the charges are per order.
Express Shipping to Main Cities @ R 150.00 incl. VAT (ETA of 1-2 Business Days)* - Main Cities are: Cape Town, Johannesburg, Pretoria, Durban, Port Elizabeth and East London. Other cities/towns will take more than 1-2 delivery time.
Standard Shipping @ R 80.00 incl. VAT (ETA of 2-4 Business Days)* - To all areas.
*Reckoned from time of dispatch to time of arrival to client. This is an estimate and not guaranteed. This period does not include Saturdays, Sundays and public holidays. The base price of R80.00 incl. VAT is for a parcel up to 10kg in Volumetric and Physical weight. Should the item/s exceed this weight, we reserve the right to increase the shipping charge accordingly.
Please Note: The above prices quoted are for ordering online through the ORMSdirect website only. A different rate will be quoted if handled manually through our camera sales department. Our delivery service only runs from Monday to Friday. Saturday morning deliveries can be done by special arrangement only and at an additional charge. Please contact info@orms.co.za to arrange. We reserve the right to re-quote the delivery fee should this become too expensive.
3. DHL Express Courier Service (International)
Please note:
International orders are generally subject to local import duties and taxes (VAT)
Orms is not responsible for, nor can we offer, any specific advice regarding any customs related fees that you may incur. For specific information, please consult with your local government import office.
Privacy: Your privacy is important to us. We strive to exceed your expectations for privacy. Cross-border shipments are subject to inspection by customs authorities. We may also be called upon to provide certain order, shipment, and product information to our international carriers. Carriers may communicate such information to customs authorities for the purpose of facilitating customs clearance and compliance with local laws.
Delivery Charges:
International shipments are quoted on a per order basis depending on the size and weight of the parcel shipped.
4. Collect & Collect from Orms Shop in Cape Town / Bellville
You are welcome to place your order online, pay for it and collect it from our Cape Town or Bellville branches. You will need to bring in a print out of the order for collection. Please ask for online sales on arrival.
Orms Shop - Cape Town
Open: Mon-Thurs 9 to 5PM, Fri 9:00 to 5PM, Saturdays 9AM to 1PM
Shop 5, Roeland Square
Upper Canterbury Street
Gardens, Cape Town, 8001
South Africa
> View on Google Maps: ORMS C.T
Orms Shop - Bellville
Open: Weekdays 9AM to 5:00PM, Saturdays 9AM to 1PM
Ground Floor, Tygervalley Chambers 2
27 Willie van Schoor Avenue
Bellville, Cape Town, 7530
FREE SHIPPING
Free shipping on all South African orders above R1000
SUPPORT 24/7
Contact us 24 hours a day, 7 days a week
HASSLE FREE RETURNS POLICY
Giving our customers peace of mind
100% PAYMENT SECURE
We ensure secure payment with PEV