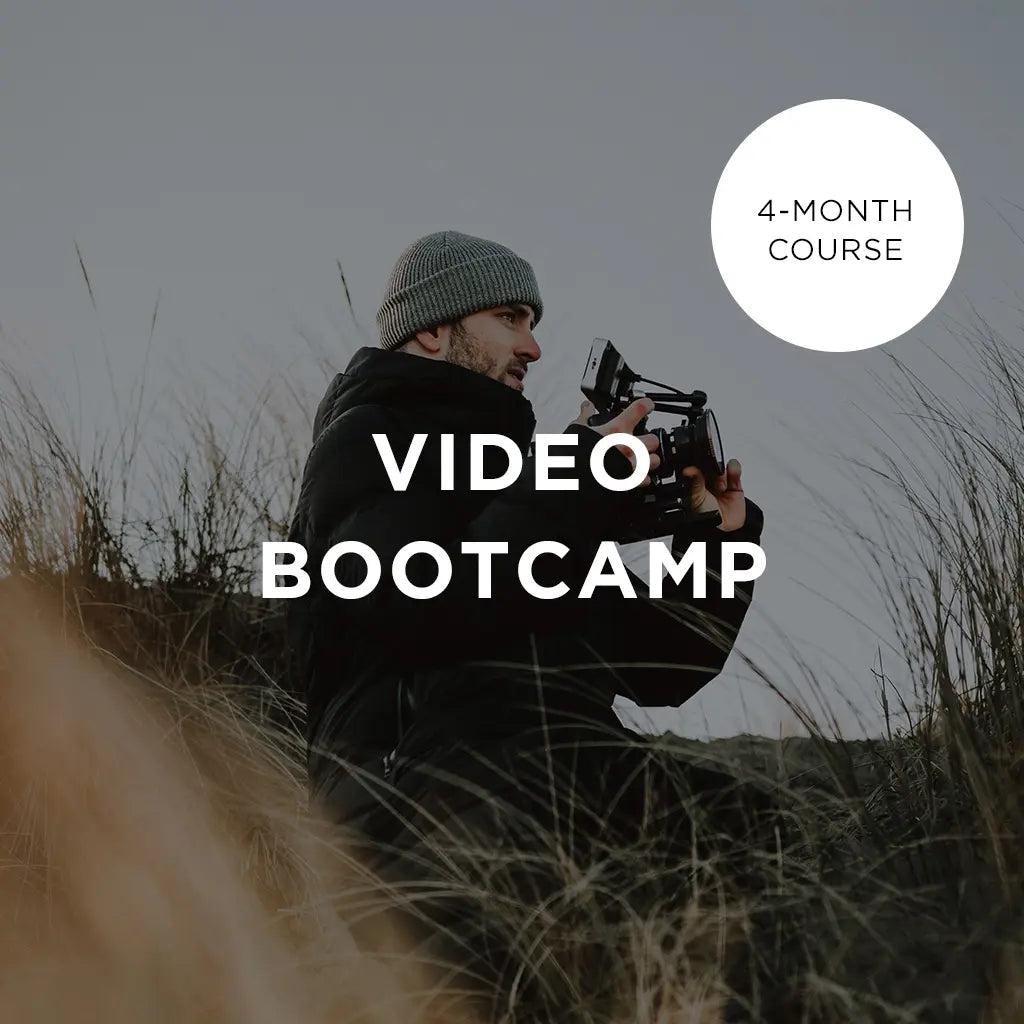 Video Bootcamp - Full-Time Course
Pricing: Was R37 500 | Now R35 000
A Deposit of R5 000 is payable in order to secure course attendance. The remainder of the course fees will be payable post arrangement with our Cape Town School of Photography course consultant. Your payment can also be structured with Mobicred. Please speak with our consultant for further information.
This course is for those who want to polish their visual storytelling skills and create content for new media. This intensive four month program gives graduates the skills and technology necessary to develop and design mesmerizing content optimized for online multi media. The content-focused nature of the course ensures that focus is always on delivering outstanding creative outputs. Through your classes students will be guided by expert lecturers and industry creatives who will provide valuable feedback as you navigate through your assignments. During the course, we will challenge you to experiment, take risks, work hard and explore your creativity while you learn new skills that extend beyond the course. Students are well prepared for a career in video design by completing the programme.
Five three hour classes per week for twelve weeks followed by two three hour consultation sessions a week for four weeks
Participants will need to complete homework projects in their own time
| | |
| --- | --- |
| Course Start Date | 4 March 2024 |
| Class Times | TBC |
| Course End Date | 21 June 2024 |
| Graduation and Exhibition | TBC |
Subjects:
Practical Cinematography
Practical Cinematography aims to develop technically strong individuals so that they can implement and create visually pleasing content. For at least six hours a week, students will receive hands-on and intense technical experience using cameras, lights, sound equipment, and post production software. The course's approach to post-production is that production will aim to shoot as flat as possible so that creative choices can be taken in post-production. This is in keeping with modern filmmaking.

Content Creation and Visual Literacy
Content Creation focuses on the various ways video is used to tell a story with a particular focus on modern technology and mediums. Instead of a standard scriptwriting course, it will focus on developing a story for vlogs, online news, commercials, music videos, documentary, social media marketing, branding and other short format videos. Visual Literacy consists of a combination of lectures, discussions, critiques, films, gallery outings and other events dedicated to establishing the student's understanding of the photographic medium within the broader context of image production, including the visual languages ubiquitous in news, scientific research and popular culture, for example. During the course the student will learn to make informed decisions about the analyses and interpretation of the image as a signifier.

Post Production
This course teaches the principles and develops the skills students need to complete professional video productions. The full post-production workflow is covered, including video and sound editing, colour grading, Digital Imaging principles needed for the correct handling of media and preparation of deliverables, and proper management techniques to ensure the safety of the media. We also look at implementing Motion Graphic elements in video productions and the compositing principles and techniques used for image manipulation are introduced to students. Weekly practical sessions in our MacLab teach the required principles and these are immediately explored during carefully designed exercises, developing essential technical skills at the same time.

Media produced for Practical Cinematography is used in this course, and assignments for the two courses are briefed together.
Course Outcomes - What You'll Take Away
Produce a Showreel
Develop Visual and Media Literacy
Develop visual storytelling skills
Develop a personal creative process
Practical workshops on creative thinking, scriptwriting, and pre-production
Learn video production techniques using a variety of modern equipment
Learn video and sound editing skills using modern software
Learn colour grading skills using industry standard software
Practical hands-on sessions on production and post-production work
Access to production and post-production equipment for assignment work
I wanted to say that we were very happy with the course and felt that it was good value for money. It was a little more intensive that we thought it would be (I suppose the fact that it was called a 'Bootcamp' should have been a clue!), but that was actually a good thing and they got through a lot of information and skills in a short time period. The lecturers were all good at their jobs, professional in their communications with the students as well as being caring and kind. Camdyn has gained a lot of confidence in himself and his abilities even though he struggled with the pressure of deadlines and meeting his own overly high expectations of himself. We were also very impressed with the caring atmosphere at the school especially from Heather.